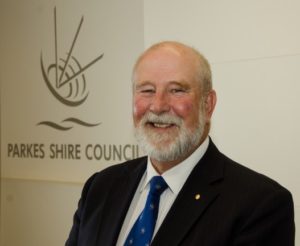 This week I joined residents of the Peak Hill community for the official unveiling of the new Peak Hill Community Wall art installation in the Commercial Gardens. The artworks currently showing are those by Wiradjuri artist and Peak Hill resident, Scott "Sauce" Towney. The Community Wall is an extension to the Parkes Shire public art series, developed to interchange over time and celebrate cultural and artistic diversity within the community.
Only one week to go until residents and visitors can dive into the swim season, with the Parkes Aquatic Centre opening its gates on Saturday, 30th September at 10am. Get in early and pick up a season ticket from the Poolside Café from Monday, 25th September. Council is also taking enrolments for the 2017/18 Parkes Learn to Swim program, with enrolment forms available for download via our website, www.parkes.nsw.gov.au.
Ahead of the start of the swim season, Council contractors have installed new solar lighting at the Parkes Aquatic Centre. This is good news for our early morning swimmers, as it now means they won't have to navigate their way through the complex in the dark. The light poles have been installed either side of the pathway from the amenities building right up to the pools, significantly improving safety for pool users.
With the school holidays just around the corner, a reminder to take advantage of the colourful landscapes, fun events and iconic attractions the Parkes Shire region has to offer by getting involved in the Colour Parkes campaign. Download your Colour Pass from www.visitparkes.com.au to gain exclusive access to eleven special offers from local attractions, accommodation, cafes and shopping outlets as part of the Colour Parkes campaign. These can be redeemed from participating businesses until 31st October 2017.
Yours Faithfully,
Cr Ken Keith OAM
Mayor of Parkes Shire