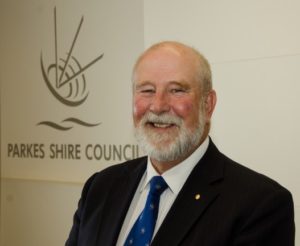 Congratulations to the Peak Hill community on successfully hosting three major events in recent weeks. The regional final of the National Busking Championships, the Annual Landscape Art Awards and Campervan Trailer National Meet have drawn hundreds of visitors to town, a huge boost to the local economy.
This week, Council staff lent a hand to pack donated furniture, fittings and building materials from the relocated Southern Cross Care unit into three shipping containers, to be donated to villages in Timor Leste, including Weberek Village. Two thirds of the equipment and materials will be delivered to 19 different health clinics in remote parts of Timor, with the remainder donated to orphanages, women's refuges and schools.
Council signed a friendship agreement with the village of Weberek in 2010, and have assisted in the delivery of vital projects to improve socio-economic outcomes for remote communities.
The popular Kids Day Out returns to the Parkes Visitor Information Centre today, from 11am until 3pm. Once again, there is an action-packed day planned with Old Kentucky Animal Farm, Jumpin Beanz Jumping Castles, Jesspresso Coffee Van, Big Daddy Woodfired Pizzas and Dippin Dots on site throughout the day, as well as hands-on science activities with the CSIRO Dish team, live music and a snake handler show to keep the whole family entertained.
After a four year hiatus, the popular GP Cup will make a return to Parkes on Saturday, 28th October focussing its attention to addressing the growing need for GP proceduralists within the Parkes Shire. Teams of 10 will compete in soccer, netball, touch football and a mystery event over the course of one action packed day at McGlynn Park.
Download a team nomination pack via Council's website.
Yours Faithfully,
Cr Ken Keith OAM
Mayor of Parkes Shire