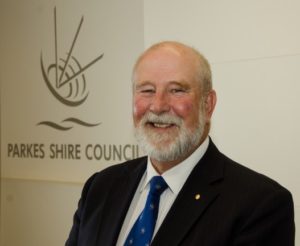 Council is delighted to have received a second prestigious accolade for the Water and Sewage Treatment renewal projects, presented with the Sustainable Systems Award at the Blue Star Awards conference in Maitland on Saturday.
This week we joined representatives from Pacific National as they announced an initial $35 million to commence development of the company's Parkes Logistics Terminal within the Parkes Logistic Hub. Pacific National's investment has been triggered by the first stage of construction of the Melbourne to Brisbane Inland Rail project between Parkes and Narromine valued at $300 million, part of the Australian Government's $8.4 billion commitment. The terminal will generate 50 full time jobs, and provide up to 20 new skilled jobs in the future, including train drivers and terminal workers.
Council has identified the first round of projects to be submitted under the Stronger Country Communities Fund. Those projects include upgraded seating at The Little Theatre, more shared pathways to link recreational precincts and the upgrade of the Community Hall at the old hospital site. Parkes Aquatic Centre has launched new Aqua Aerobics classes for all ages and abilities.
The pool will run two 45-minute sessions on Tuesdays at 7.15am and 7.15pm, for $10 a class. This initiative aims to encourage members of our community to live active, healthy lifestyles.
Yours Faithfully,
Cr Ken Keith OAM
Mayor of Parkes Shire