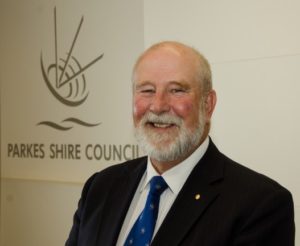 The Shop Parkes Christmas campaign officially launched today, which aims to drive spend into the local economy over the festive season. Residents and visitors are encouraged to fill their stockings locally at participating stores until Sunday, 31st December and fill out an entry form for a chance to win a $5,000 travel package to a destination of your choice. The lucky winner will be chosen on Friday, 5th January 2018.
Residents are invited to make their '68 Comeback to the 2018 Parkes Elvis Festival as a volunteer. Register online at www.parkeselvisfestival.com.au. Volunteer induction nights will be held on Monday, 13th November and Monday, 4th December. For more information contact the Parkes Visitor Information Centre on 6862 6000.
Nominations are now open for the 2018 Australia Day Community and Cultural Awards, recognising outstanding service to the community. Nomination forms are available at Council's Administration Building, Parkes Shire Libraries, or can be downloaded from www.parkes.nsw.gov.au. Residents are encouraged to take advantage of the free tip days this weekend at the Parkes Waste Facility. Residents can dispose of green waste, mixed recyclables
and general household waste free of charge tomorrow and on Sunday from 8.30am until 4.15pm. A reminder to separate your loads and cover the load when transporting waste to the facility. Special wastes such as tyres, builders waste, white goods, mattresses and gas bottles are not included in the free tip weekend and therefore, will be charged as per normal fees and charges.
Yours Faithfully,
Cr Ken Keith OAM
Mayor of Parkes Shire