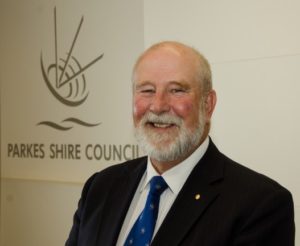 Residents are invited to make their '68 Comeback to the 2018 Parkes Elvis Festival as a volunteer. The first Volunteer Induction Night is on Monday, 13th November, 6pm at Council. For more information contact 6862 6000.
Nominations for the Australia Day Community and Cultural Awards close on Monday, 20th November and recognise
outstanding service to the community. Nomination forms are available at Council's Administration Building, Parkes Shire Libraries, or at www.parkes.nsw.gov.au. November marks Asbestos Awareness Month, with Council's Planning and Environment team launching a campaign on the dangers of asbestos. There is information on Council's website on how to protect yourself from exposure during renovations and home maintenance.
Council staff installed a new public art work in Mingelo Street, Peak Hill this week. It features a postage stamp of Melvin the Ram, and reflects the town's golden heritage, the district's strong agricultural background and more prided claim to fame, their prized Merino sheep.
Residents and visitors are encouraged to fill their Christmas stockings locally this festive season, with the Shop Parkes campaign. Make a purchase at any of the participating stores until 31st December and fill out an entry form to win a $5,000 travel package to a destination of your choice.
Yours Faithfully, Cr Ken Keith OAM
Mayor of Parkes Shire