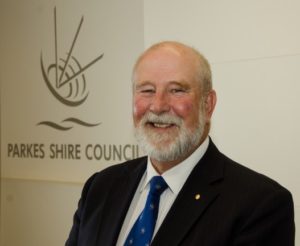 This week I was fortunate enough to meet the amazing Pricilla Presley at the Elvis and Me: An Evening with Pricilla Presley gala event in Sydney. Joined by Parkes Festival Director, Cathy Treasure, we gained insight into Priscilla's life and shared the successes of the festival with her.
The Volunteer Induction Night this week attracted over 30 attendees. For those interested in helping, the next induction night is on 4th December at 6pm in the Coventry Room.
Congratulations to our wonderful Engineering Cadet, Cate Fennell on being awarded the G A Taylor medal for best paper at the IPWEA NSW State Conference for her presentation 'What makes an Engineer today?' Cate now goes on to represent the State at the National IPWEA Conference in 2019.
Nominations for the Australia Day Community and Cultural Awards close on Monday, 20th November. Nomination forms are available at Council's Administration Building, Parkes Shire Libraries, or can be downloaded from www.parkes.nsw.gov.au.
With December around the corner, residents and visitors are encouraged to fill their Christmas stockings locally and stand a chance to win a $5,000 travel package as part of the Shop Parkes and WIN campaign. Make a purchase at any participating store until 31st December and fill out an entry form. The lucky winner will be chosen on 5th January 2018.
Yours Faithfully,
Cr Ken Keith OAM
Mayor of Parkes Shire