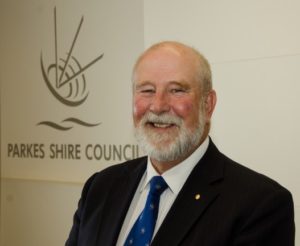 Congratulations to the organisers of Peak Hill's Meet You Up The Street Festival on delivering another successful event. Thank you to those residents who joined the conversation about the planned projects for Peak Hill, including the Main Street Tree Proposal, and installation of new fitness and playground equipment. The proposals and an online survey are under the Public Notice section on Council's website until 5pm, Friday, 15th December – www.parkes.nsw.gov.au.
Last Friday's wild weather saw the popular Christmas Street Parade and Sparkles Markets and Movie Night called off. While the Street Parade will not be rescheduled due to conflicting community events, the Parkes Action Club must be commended for their hard work organising the event.
The Markets and Movie Night has been rescheduled to Saturday, 16th December from 5pm. Be sure to check out the
Sparkles Illuminations when the sun goes down, with some exciting new locations added this year. The Parkes Shire community is invited to celebrate the festive season and sing your favourite Christmas carols in Parkes and Bogan Gate. In Parkes the Carols in Cooke Park starts at 6.30pm, and the Bogan Gate Carols in the Memorial Hall will be from 7.30pm.
Gift a book this Christmas at Parkes Shire Libraries! The books will be donated to the Aboriginal Literacy Foundation for schools in remote parts of northern Australia. Purchase a book for a child between 0 and 12 years old, wrap it up, place a tag on it with the child's age on it and place it under the tree at any of our libraries. For more information visit Council's website.
Have a safe and festive weekend,
Cr Ken Keith OAM
Mayor of Parkes Shire