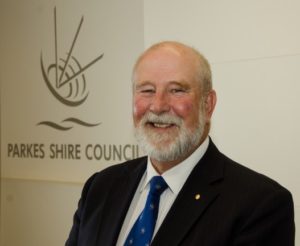 Council is delighted to have been successful in its application for $1.2 million in funding to facilitate the completion of the Bogan Way (MR350) and Middle Trundle Road projects. The Bogan Way will receive $710,000 to widen 6.2 kilometres, 2 kilometres of shoulder upgrades and replacing and strengthening drainage structure for road train access. The Middle Trundle Road will receive $500,000 for widening and sealing works along the final 6 kilometre section.
This week Council staff reached a major project milestone, placing the 14 bearing beams on the piers and abutments of the Kadina Bridge. Each beam is 12m long and weighs approximately 6.3 tonnes each. Today is the last opportunity for residents to join the conversation about the planned projects for Peak Hill. Residents can view the proposals and take the survey online, via the Public Notice section on Council's website until 5pm today www.parkes.nsw.gov.au.
The much anticipated Sparkles Markets and Movie Night will take place tomorrow. I encourage all residents and visitors to join the festive celebrations from 5pm in Cooke Park, with Santa Claus 2 playing on the big screen once the sun goes down. The Sparkles Illuminations will be on every night until Christmas.
Have a safe and festive weekend,
Cr Ken Keith OAM
Mayor of Parkes Shire