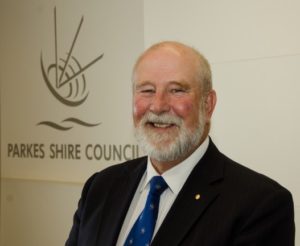 Thank you, thank you very much to the Parkes Shire community for their hospitable reception of over 25,000 visitors for the 2018 Parkes Elvis Festival. The 26th festival saw record-breaking crowds from across Australia and the world enjoy the 150 individual events over five days. The Northparkes Mines Street Parade saw over 10,000 people line Clarinda Street to watch around 170 Elvis-themed floats. The crowds then gathered in Cooke Park to watch NSW Governor David Hurley officially unveil our newest tourist attraction – the life-size statue of Elvis by sculptor Terrance Plowright.
This week we marked a monumental milestone for the Melbourne to Brisbane Inland Rail project, with the first 14,000 tonnes of steel rail delivered to Peak Hill. I joined the Deputy Prime Minister and Minister for Infrastructure and Transport, The Hon. Barnaby Joyce on Monday to park the beginning of construction on the Parkes to Narromine section.
Congratulations to Rosaline Coffee from Forbes who is the lucky winner of the Shop Parkes + Win campaign with a $5,000 travel package to a destination of her choice. Next week we welcome distinguished Australian art educator and exhibition curator, Ann Snell as the Parkes Shire Australia Day Ambassador for 2018. For information about Australia Day events visit www.visitparkes.com.au.
Yours Faithfully,
Cr Ken Keith OAM
Mayor of Parkes Shire