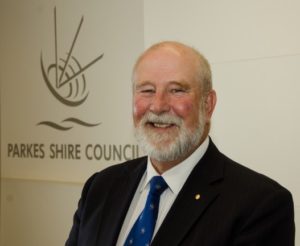 Residents are encouraged to join the Australia Day celebrations across the shire. I am delighted to welcome Australian art educator and exhibition curator, Ann Snell as the Parkes Shire Australia Day Ambassador. The day is an opportunity to recognise the tremendous achievements and contributions of eminent members of our community
– congratulations to the nominated residents.
Residents and visitors are also invited to join the celebrations when the Gold Coast 2018 Commonwealth Games Queen's Baton Relay (QBR) comes to Parkes on Monday, 29th January. The Relay will start at 4.30pm at Memorial Hill, making its way through the CBD, to finish at the Parkes Aquatic Centre with community celebrations from 5:30pm. Parkes Aquatic Centre will host a family friendly pool party, with free entry from 4pm until 7pm, outdoor games, and entertainment.
Council will revitalise the entrance to the Parkes Cemetery, after an arborist's report determined that the existing 11 eucalyptus trees lining the main entrance avenue are in decline following a severe storm in 2016. Council will remove the old trees and replace with a smaller deciduous species, rehabilitate the site, install irrigation, construct kerb and guttering along the internal road, as well as a new footpath. The full report is available for download via Council's website.
I encourage residents to have their say.
Yours Faithfully,
Cr Ken Keith OAM, Mayor of Parkes Shire