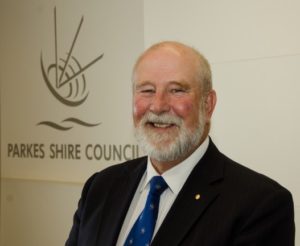 What a week we've had! On Monday we welcomed the Queen's Baton Relay to Parkes on its way to the 2018 Commonwealth Games on the Gold Coast. I was delighted to be one of 19 locals to carry the baton through town.  Thank you to all the residents and visitors who came out and lined the streets to cheer on the batonbearers.
The baton made a special visit to The Dish for a hayride at sunrise on Tuesday before departing for Orange. The relay will finish its international journey on 4 April at the Opening Ceremony. Parkes Shire Library is calling for the community to think outside the square for this year's Waste to Art competition. Entries are now open, with three categories for residents to get creative. Entry is free and closes just before Easter on 28th March at 5pm. Download an entry form from www.parkes.nsw.gov.au.
Today, Parkes will join the rest of the global community in commemorating World Wetlands Day. This year's theme is 'wetlands for a sustainable urban future', and aims to highlight how urban wetlands improve liveability; not only for recreational enjoyment, but also for the role wetlands play in the environment. Following the rejuvenation of PAC Park last year, residents and visitors can celebrate the day visiting our own urban wetland.
A reminder to motorists that the 40km/h school speed zones are back in force between 8 – 9.30am and 2.30 – 4pm on school days – keep an eye out for the flashing lights.
Yours Faithfully,
Cr Ken Keith OAM
Mayor of Parkes Shire