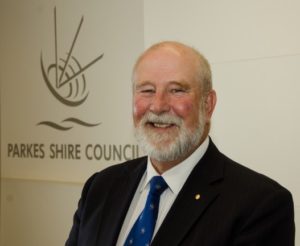 This week Council launched the Parkes National Logistics Hub Business Attraction campaign, aimed at attracting major logistics, manufacturing, warehousing and distribution companies to establish operations in Parkes. Residents can learn more about the campaign via www.parkeshub.com.au or @ParkesHub on Facebook and Twitter.
Congratulations to Yasmin Potts and Madeline Swan who are the 2018 recipients of the Jack Scoble Scholarship. The scholarship aims to financially assist Parkes Shire high school graduates to commence undergraduate studies.
Council staff are gearing up to go headto- head with our Council counterparts in this year's Local Government Touch Football Carnival at Cheney Park on Saturday, 24th February. Now in its 26th year, the carnival attracts teams from across the eastern states of Australia. Parkes has joined forces with other Central NSW tourism stakeholders to develop a regional tourism directory. Visitors will be able to search the information hub for key experiences in
their chosen destination and neighbouring destinations thanks to an inbuilt geospatial feature. Local tourism operators are encouraged to get involved by listing their business with the Australian Tourism Data Warehouse (ATDW), with Central NSW populating the directory from this national platform.
Yours Faithfully,
Cr Ken Keith OAM
Mayor of Parkes Shire