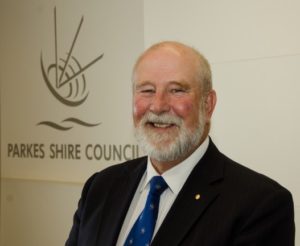 Parkes will welcome around 200 representatives across the eastern states of Australia to take part in the 26th annual Local Government Touch Football Carnival at Cheney Park tomorrow. Seventeen teams have registered for this year's competition and it's expected the tournament will inject around $40,000 into the local economy. It's a fantastic social competition and I encourage locals to get down to Cheney Park and cheer on our local teams from 9am.
This week local contractors have continued work on linking the town's pedestrian and bicycle network, constructing a path at the new Water Treatment Plant. As part of the construction of the Urban Water Main Augmentation (UWMA), disturbed strips of soil are being transformed into bike paths for the community to enjoy. Residents can learn about the UWMA at the WTP Community Open Day on 24th March.
In an effort to mitigate the occurrence of flash flooding in the Parkes CBD, Council's infrastructure team have been installing storm water pipes along Victoria Street this week. The work comes after extensive investigations were carried out after the flash flooding incidents in 2016 and 2017.
The work is part of Council's Stormwater Management Plan to manage urban stormwater according to the principles of best practice, to reduce impacts on waterway health, minimise stormwater flooding and provide an alternate water source.
The Parkes Elvis Festival team held a Community Feedback Evening this week to gain feedback about the 2018 Festival, and ideas about how we can improve for 2019. Residents unable to attend are encouraged to share their suggestions by contacting the team on 6862 6000.
Yours Faithfully,
Cr Ken Keith OAM
Mayor of Parkes Shire