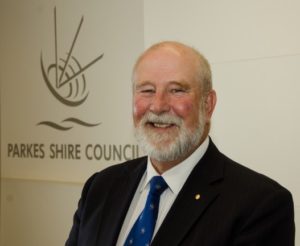 Join Parkes Shire Council's Earth Day celebrations this weekend at the Advanced Water Recycling Facility (AWRF) Community Open Day and Tree Planting this Saturday 21st April from 10am until 12pm. The new state-of-the-art facility, located at 84 Akuna Road, will be open to public for interactive tours, for residents to learn more about the new Parkes Water Recycling Scheme, and participate in a tree planting to rejuvenate the newly opened site. The facility provides a tremendous benefit to the town, producing clean, safe, high quality recycled water to be used for irrigation at our public greenspaces. For more information, and to pre-register for tours visit www.parkes.nsw.gov.au.
Residents and visitors are invited to remember the Australians and New Zealanders who have served in all wars, conflicts and peacekeeping operations, at the Anzac Day commemorative services held across the Parkes Shire next Wednesday 25th April. Services will be held in Parkes, as well as the townships of Alectown, Bogan Gate, Peak Hill, Trundle, and Tullamore. The full Parkes Shire 2018 Anzac Day Programme is available for download from Council's website, www.parkes.nsw.gov.au.
Local creative groups and individuals are encouraged to apply for a 2018 Parkes Shire Council Cultural Grant, which aims to support the development of art and craft initiatives, skills and facilities throughout the Parkes Shire. Funding categories include subsidy for a new project, extension or enhancement of an existing project, purchase of equipment or minor capital works. Download an application form from Council's website or pick up a hardcopy from any Parkes Shire Library.
Have a safe and enjoyable weekend,
Cr Ken Keith OAM
Mayor of Parkes Shire