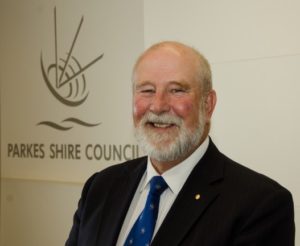 This week we stopped to commemorate Anzac Day, with thousands of locals and visitors attending the numerous services and activities held across the Parkes Shire.
It was fantastic to see so many community members in attendance, keeping the Anzac legacy alive across the Parkes Shire. Council is set to repurpose 100 per cent of the eleven trees removed from the Parkes Cemetery entrance, following their removal last week due to their deteriorating condition.
The leaves and smaller branches of the old eucalyptus trees will be turned into mulch, while the larger branches and main trunks will be stock piled for future rehabilitation projects. Council's Rates Department have implemented
a general extension for the quarterly Water Notice until Friday 11th May 2018 to give residents an additional two weeks to make payment. A reminder that you can now make payment online via the new My- Parkes portal, my.parkes.nsw.gov.au.
I encourage residents to support our neighbouring regional events this weekend with the 2018 Cabonne Country Balloon Glow kicking off at 3.30pm at the Canowindra Showgrounds. A great family-friendly event that will certainly cap off the school holidays.
Have an enjoyable weekend,
Cr Ken Keith OAM
Mayor of Parkes Shire