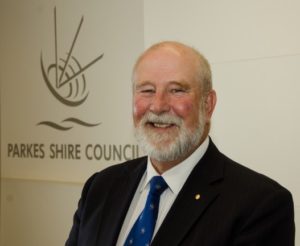 This week, our General Manager and I joined newly appointed ARTC Inland Rail CEO Richard Wankmuller and ARTC Chairman Warren Truss to inspect the progress of the Goonumbla bridge upgrade. The $2 million investment to construct four concrete bridges will support the ongoing delivery of the Inland Rail when construction begins on the Parkes to Narromine section mid-2018.
Council staff marked National Road Safety Week by taking the pledge to make our roads safer for everyone. Staff have worn yellow ribbons and displayed yellow ribbons on fleet vehicles to honour those killed in road crashes.
Council's road crew have begun the upgrade of MR348 (Peak Hill – Tullamore). The upgrade includes the reconstruction of four kilometres of road, tree removal and causeway rehabilitation.
The proposed tree replacement options for the cemetery entrance are on public exhibition. Residents are encouraged to view the concepts and provide feedback via Council's website until 28th May.
A reminder that a general extension for the quarterly Water Notice has been implemented until Friday, 11th May to give residents an additional two weeks to make payment.
It's that time of year again where the Parkes Shire welcomes Dancing Queens and Super Troopers from all across Australia for the Trundle ABBA Festival. This year the entire Festival line up will be at Berryman Oval, with the entertainment kicking off on Friday night. So dust off your platforms and head out to Trundle this weekend.
Have an enjoyable weekend,
Cr Ken Keith OAM
Mayor of Parkes Shire