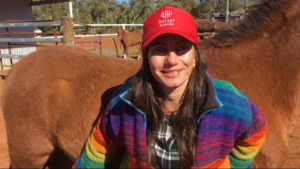 How long have you worked with the Phoenix?
I started working with the Phoenix in August last year, so that's about 10 months now.
What is your role?
I'm a reporter.
What does your usual day look like?
My work days vary depending on what is happening. Some days I'm interviewing or attending events and taking photos. Other times I'm sat at my desk writing up my stories. I'm pretty adaptable and enjoy having a varied routine.
Where are you based?
I'm based in Parkes, but I have been known to wander over to Forbes from time to time.
Best thing about your job?
This job has been great for getting to know the town and meet people. I was fairly new to the region when I started with the Phoenix, so it's been fantastic to get out and talk to so many different people and see what happens in Parkes. I've been impressed by so many of the people I've interviewed, it's great to see the real diversity of talent and triumphs within our community. Everyone has a story, and it's great to be able to share some of them with our readers.
Future ambitions.
I've got a few screenplays at various stages of development – but my big passion project at the moment is a young reader's novel. The challenge is to balance my time against my responsibilities and make some decent progress on my narrative work this year.
Best Holiday.
I just spent a week training a brumby out near Cobar. It sounds like a very rugged cowboy kind of activity, but the method is more like "How to train your Dragon". It's all about establishing trust, it was incredibly gentle and unbelievably easy. My brumby was following me around by the end of the first day, and under saddle by the end of the week. If that wasn't magic enough, the stars out there were incredible!
Favourite place?
Mon Repos; it's a sea turtle rookery just near Bundaberg in Queensland. I spent quite a bit of time there in my youth, and we took the kids up a couple of years ago. It's magical to watch the turtles come up the beach to nest, and to see the tiny little hatchlings dig themselves out of the sand and skitter into the surf. Sometimes there's luminescent algae in the ocean, and the waves twinkle like blue fairy lights. It's spectacular.
Favourite food?
Home-cooked meals shared with friends.
How do you spend your weekends?
Sometimes I have to wear my reporter hat, but mostly I kick about with the kids and animals and reluctantly do a bit of housework. My favorite weekends are out with the kids and pony, making pizza, and watching a movie.