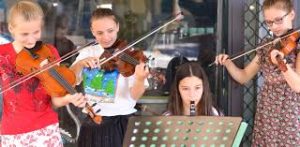 Today is the start of the festive season, and Peak Hill is pulling out all stops to start it off with a bang with its annual Meet You Up The Street Festival. The streets will come alive with music, street stalls, raffles and loads more. You
can have an early start at 8:30am to see the Nativity Scene at the Commercial Gardens and from 9am onwards the street stalls and shop specials will provide you with a day of easy browsing and shopping.
Look out for the Red Cross stall with home cooking to support this worthy cause. There is also Live Art in the street from 9am with Maria Harrison, which will be judged at 4:30pm. The entertainment continues at 10:30am with Sing Australia, and at 11am the first round of the mighty Chocolate Wheel will commence, while the second round will be at 2pm. From 12 noon it's time for lunch up the street of course.
At 1pm the Commercial Gardens will be the place to be for fun, including a mechanical bull ride, bungee run, gladiator and sumo, and a jumping castle.
Santa has promised to drop in and will be happy to pose for photos from 2:20 to 3:30pm at the Temple Lion Antiques & Patisserie. Speaking of Santa – children remember to post your letters to Santa at the letterbox near the post office.
Come up in your favourite outfit for the children's dress up near the Library at 4pm, while from 5pm it is time again for dinner! There will be Twilight Busking between 6pm and 8pm with great money prizes up for grabs. Any act is welcome, contact Pat on 0429 000 050 to participate. There is also judging of the Christmas decorations with prizes for Best Town and Best Country Letterboxes, Best Decorated House, Best Decorated Shop and Best Shop Window.
Drop In At Mackenzies
Festivities tend to activate your appetite. If you are looking for a unique dining experience in Peak Hill, look no further than Mackenzies Kitchen.
You will find hot dogs with sour kraut and mustard, gourmet beef burgers, roo and lamb on turkish bread, and exclusively roasted coffee beans from Central West NSW. Mackenzies is also the only shop in town with fresh, hand battered fish.
Don't walk past the green building with old-fashioned music pouring from its windows.