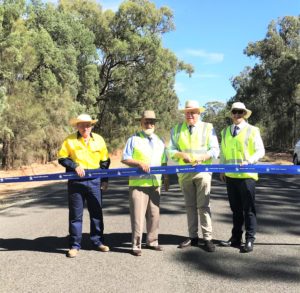 The completion of the second stage of works to Middle Trundle Road was announced this week. As an important distributor road in the Parkes Shire Council area, Parliamentary Secretary for Western NSW Rick Colless said the upgrade would generate significant economic and productivity benefits for the region.
"It will provide a quicker, more direct route for heavy vehicles and local commuters travelling to and from the Newell Highway." This project involved widening, reshaping and sealing a 4.5km stretch of Middle Trundle Road, which has tragically recorded a number of road injuries and fatalities.
The second stage of upgrade works received $300,000 from the NSW Government's Restart NSW Fixing Country Roads program, $300,000 from the Australian Government's Heavy Vehicle Safety and Productivity Program and $300,000 from Parkes Shire Council. A further 6km of upgrades were completed in mid-2017.
"These upgrade works will cut travel time by roughly 10 minutes in each direction, said Rick. "Freight is worth $60 billion to the NSW economy, and we are proud to be supporting this industry through targeted investments into key road upgrade projects."
Parkes Shire Mayor, Cr Ken Keith OAM said: "Middle Trundle Road plays a significant role in the accessibility and productivity of our region and these upgrades will deliver the carriageway required to facilitate road train access throughout our Shire ahead of the planned expansion of the Parkes National Logistics Hub."
"Additionally, the upgrades have allowed better local linkages between the townships located in the western division of Shire being Trundle and Tullamore to the Parkes urban centre."