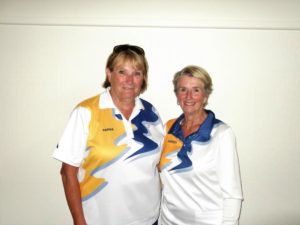 The final of the minor pairs was played this week with Heather Harvey and Jan McPhee defeating Di Howell and Lorraine Baker in a thrilling match to the end. The enthusiasm and skill displayed by our newer members were inspiring to see. Congratulations to all.
A great day of bowling was enjoyed on Tuesday by all members with triples games played.
Di Greenhalgh, Merilyn Rodgers, Maureen Baillee defeated Chris Curteis, Hilda McPherson, Marja Iffland. Kay Craft, Margaret Hawken, Rhona Went defeated Ann Wright/Helen Heraghty, Audrey Jones, Joan Simpson.
Maureen Miller, Kim Evans, Betsy Johnstone defeated Eileen Bradley, Minnie Riordan, Brenda Davies. Chris Cox, Kate Keogh, Liz Byrne defeated Lea Orr, Frances Charlton, Rosemary Mitchell.
Winners for the day were Chris, Kate and Liz. Runners-up Di and Lorraine. Please put your name on the board to play in Pennants next year; and for the Rose Trophy to be played in our district next year. This is a new competition between our district clubs and the trophy has been donated by President of CWD, Heather Hoad, in memory of her husband. Our presentation and Christmas Party will be held on 11th December. Names of players and non-players must be put on board. All prize winners must wear club uniform. To play social bowls please ring table selectors Audrey Jones and Minnie Riordan. Social Isabel Svendsen.
By Rosemary Mitchell