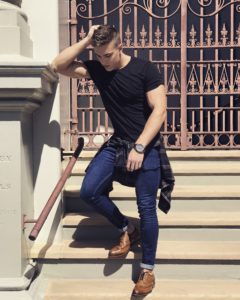 The main judge for the Parkes Picnic Races Fashions on the Field next Saturday is former local Jay Fisher.
Jay was born in Parkes and relocated with his family to Canberra before commencing high school where he started modelling for local designers and magazines.
Jay now lives in Sydney and has built a large following on Instagram (@jayfishr). Jay's social media platform has enabled him to collaborate with Australian and global brands, such as Daniel Wellington, Shoreditch, Julius Marlow and Bodaskins to name a few.
More recently Jay and his partner, Sam McDougall have signed a six-month deal to be Holden ambassadors, promoting the new Holden Astra via their social media channels.
Jay has a large extended family based in Parkes and is very excited to be a part of this annual event. He anticipates a high level of creativity with the fashions this year – so the challenge is out there Parkes!