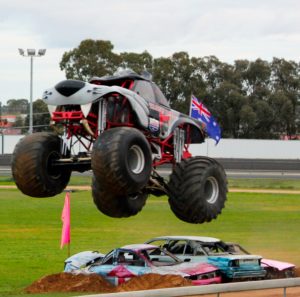 The six giants came and they conquered thousands last Saturday at Parkes Showground. More than 2,500 people braved the cold weather for the first Ultimate Monster Action show to be held in Parkes. The seriousness of the day's voting soon evaporated with the spectacular after burn mode of the jet car. "The crowd was wowed by the jet car fitted with a helicopter jet engine," said Professional Monster Truck driver and part owner, Troy Garcia.
Bennie the Clown had the children in stitches with his attempts to ride or climb on everything out of bounds for him. Country music star Adam Brand, who hosted the show, had to enlist help from the children to keep an eye on Benny's antics. Benny did manage to get into the Old Skool monster truck and performed some stunts. This
truck is one of the original monster trucks built 40 years ago in the United States to crush cars.
When it came to the action stunts, a monster truck flying three to four metres through the air and crashing down on old car wrecks, sent tingles down many spines. But it was the motocross bikers doing backflips that had everyone holding their breath. "It was the best of the night," a young spectator summed it up. Troy said it was a bit touch and go for the bikers. "They still did the backflips, which is their most difficult stunt, but the wet weather made it harder to do."
The show ended on a high with a stunning firework show. Troy had lots of positive reaction to the show. "The Show Society was rapped. They were worried about the grounds getting messed up with the trucks as the annual show is not too far away, but it was all good."
Troy said they planned to be back in Parkes every couple of years.