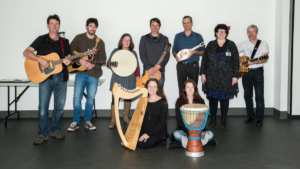 Patients at Parkes Hospital were treated to a musical accompaniment last month. Six people from across the region were trained as specialised Musicians in Hospitals for an Arts OutWest project.
Three local musicians, Drew Farrant-Jay- et, Leah O'Rourke, and Stephan de Wit van der Merwe, were selected for the two-day training program. They covered topics such as ethics, appropriate repertoire, and work- ing with health professionals. The practical sessions took the musicians to various hos- pital settings, including rehabilitation, pallia- tive care, and general wards.
For Drew, a social work student, the pro- gram was an opportunity to combine two of his passions; music and finding different ways to help people.
"It was very insightful, learning about the therapeutic benefits of music," Drew said. "But the practical side of the course was the real privilege, being able to play for vulner- able people."
Stephan described the experience as profound. "It was a very emotional experience,"
he explained, "to see the impact on the community and to bring the gift of music to patients and their families."
Stephan said the most inspiring aspect of the program was the focus on the pa- tient's wellness. "Medicine and treatment tends to be based on the 'sick' part of the person, but as a musician in hospital you get to treat the 'healthy' part of the patient," he said.
Like the other practitioners Leah agreed that playing in the palliative ward was an exceptionally powerful moment, but for her there was an additional connection. "It was such a privilege to be able to play for my friend's father in the final moments of his life," she said.
"It was thoroughly rewarding to be able to use my gifts and talents for people in need," Leah said. "I think the staff benefit as equally as the patients. Music creates a calm, positive environment, and the ben- efits flow out to the whole community."
By Raen Fraser