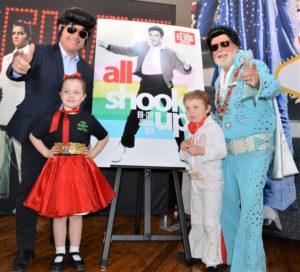 In April 1957 Elvis Presley's song All Shook Up topped the US Billboard Hot 100 for eight weeks. Sixty-two years later Parkes is going to be All Shook Up for five days in a celebration of the 50s at the 27th Parkes Elvis Festival.
"Every year we aim to make the festival bigger and better, and we have done it again with over 200 events," said Parkes Elvis Festival Director, Cathy Treasure of the festival that more than doubles the population of Parkes from 12,000 to 26,500.
First time festival goers and repeat visitors can look forward to all the favourite features of the festival, but also a long list of new events and highlights. These include more dancing in the street, a special Kombi display, international star Francine Bell at the Gospel Service, more fan interaction workshops, a dance workshop for
kids by former Yellow Wiggle Greg Page, a special tribute concert for Phil Emmanuel, and more free shows in Cooke Park.
"We are very excited to have Ted Torres Martin from the US as our feature artist, doing four different concerts," said Cathy. Iconic Australian singer-songwriter and guitarist Russell Morris is The Wall of Fame recipient this year – a very fitting tribute in the year of the 50th anniversary of the moon 237 Clarinda St Parkes NSW  landing as his 1969 hit The Real Thing was the theme song for The Dish movie.
The Parkes Elvis Festival has been recognised with a string of awards over the years, but entered new territory last
November being inducted into the Hall of Fame of the NSW Tourism Awards after winning the best festival in NSW award for the third consecutive year.
Whether you have dancing shoes or not, this festival is one where 'you'll be in love… you'll be All Shook Up at the 2019 Parkes Elvis Festival!
By Maggi Barnard