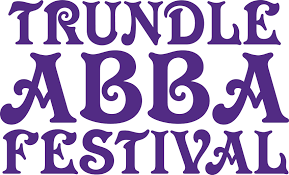 In a month's time Trundle will be transformed into a colourful flares and sequins paradise when 5,000 ABBA fans descend on the small town to say 'Thank You for the Music'!
The eighth festival on Saturday, 4th May, has once again secured the most successful tribute act of all time, Björn Again, as the feature act and they will be performing their 30th Anniversary Tour celebrating 7,000 shows in over 100 countries.
The main stage at Berryman Oval will be rocking all day with support acts like Parkes' very own Amitie, rocker Ben Ransom, soulful vocalist Ingrid Mae.
The day also features Fashions of the Festival, Dancing with the Stars with Alana Patience and Tristan McManus, DiscodTours (silent discos), face painting and markets.
The ABBA Express will again be running a return service from Sydney, Parkes and Forbes, while there will be buses from Parkes, Forbes and Canberra.
If you are planning to stay over, there are still unpowered camping sites and glamping tents available at the Racecourse. Bookings can be made via www.123tix.com. Tickets to the festival can be pre-purchased via www.trundleabbafestival.com.au. Enter our competition on page 6 to win a double pass to the ABBA Festival.