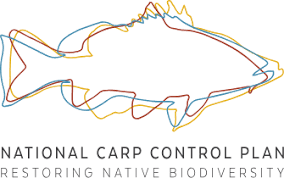 The National Carp Control Plan (NCCP) team, together with Central West Local Land Services would like to invite you to an information evening focusing on the use of a species-specific virus known as Cyprinid herpesvirus 3 (the carp virus) as a biocontrol agent.
The community briefing session will be held on Wednesda, 30th May, from 6pm to 8pm at the Forbes Inn Hotel, 43 Rankin Street, Forbes. The event is an opportunity for Forbes residents to hear about proposed carp biocontrol measures first-hand from the NCCP and Local Land Services as well as contribute feedback to the plan.
This event is one of more than 40 community briefings that have been held in NSW, Victoria, South Australia, the ACT and Queensland. For more information on the briefing or to register your attendance, please contact Vivien Howard on 0439 387 603 or email vivien.howard@lls.nsw.gov.au.