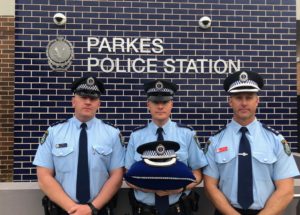 Central West Police District Commander Superintendent Chris Taylor invites the Parkes community to join police in paying tribute on National Police Remembrance Day.
A service will be held on Friday, 28th September at St George's Anglican Church at 10am. National Police Remembrance Day on 29th September each year is one of the most important events on the NSW Police Force calendar and holds special significance to police throughout Australia and the Pacific region.
It is a day to remember those officers who have given their lives in the course of their duties. Not only will the service pay tribute to fallen NSW Police Force Officers, but those from all Australian states as well as New Zealand, Papua New Guinea, Samoa and the Solomon Islands.
Remembrance Day is also a time to remember both sworn and unsworn members of the NSW Police Force who lost
their lives through illness, accident or other circumstances in the previous 12 months.