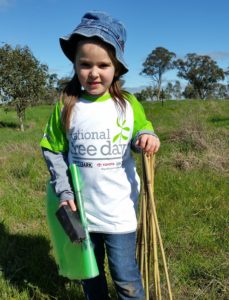 Central West Lachlan Landcare (CWLL), Parkes Shire Council, Planet Ark and Toyota are inviting Parkes residents to take part in a local National Tree Day event on Sunday 30 July. National Tree Day is Australia's largest
tree-planting and nature care event. Each year over 300,000 people take part in National Tree Day events at 3,000 sites. Since Planet Ark launched National Tree Day in 1996, more than three million participants have planted 21 million native trees, shrubs and grasses.
"National Tree Day is a timely opportunity to connect with the community, reflect on what's been achieved through previous plantings and continue to care for our local environment," said CWLL Chairperson, Margot Jolly.
Landcare Co-ordinator, Marg Applebee explained "previous National Tree Day projects are flourishing and we look forward to continuing the fantastic work that has already been achieved through these community planting days. We encourage people who are planning to attend to register at the Planet Ark website."
Findings of independent research commissioned by Planet Ark over the last five years has found that contact with nature provides a range of happiness, health and wellbeing benefits, but our outdoor time is being eroded by increased screen time, longer working hours and shrinking backyards. "Our research shows that you can grow
happier by getting outside and connecting with nature," says National Tree Day Manager Debbie Agnew. "Nature has the ability to influence happiness because it has direct and positive effects on the brain, so National Tree Day is a free and easy way to boost these feelings."
The National Tree Day event will be held at the northern end of Danilenko Street in Parkes. Activities start from 11am and will conclude with a sausage sizzle at 1pm. To register for National Tree Day, please visit treeday.planetark.org