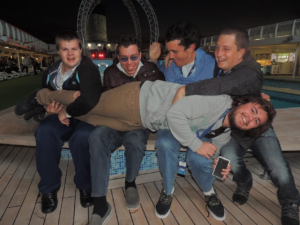 Now that Western NSW and the Far West have rolled out the NDIS roll on 1st July, services providers and eligible recipients of the NDIS will work with the National Disability Insurance Agency over the coming months to ensure participants are supported with an individualised plan to meet their needs.
It is an exciting time and arguably the biggest change to the health system in Aus- tralia since the introduction of Medicare in 1975. Despite some challenges thus far with the implementation of the NDIS, the general consensus has been extremely positive and by 2019 the NDIS is expected to support about 460,000 Australians.
For Currajong Disability Services, the new scheme is a welcome change and has enabled the organisation to expand and explore avenues previously unavailable. Likewise, it has also given more control to clients who now have more choice about their supports than at any other time before.
Currajong Disability Services Client Program Co-ordinator Jonty Ralph is excited by the NDIS.
"The NDIS will provide clients and their families with more choices and flexibility," he said. "Over a period of time we will see the undoubted benefits. This should make things easier for everyone."
As an insurance scheme, the NDIS takes a lifetime approach, investing in people with disability early to improve their outcomes later in life.
While not applicable to everyone, most people within their lifetime have had some exposure to disability.
"The industry is growing as demand for more resources also grows – especially support workers," said Ralph. "The NDIS has also opened up the national conversa- tion on disability and has everyone talking so this is also a good thing," he said.
"With so many people impacted by disability the discussion is also an important one because you never know how it may impact you."
More info here – http://currajong.org.au/ndis/