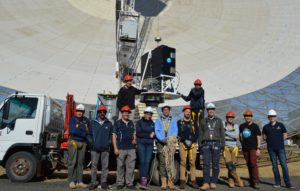 There was huge excitement in the world of astronomy on Tuesday when the Parkes Radio Telescope installed the world's first and only ultra-wide band receiver that will let the telescope do different jobs at the same time.
"I cannot stress enough how amazing this technology is," said Dr Jane Kaczmarek, who moved to Parkes six weeks ago and will be working on the commissioning of the receiver. "It is like a Swiss army knife, it can do everything. We are so excited as we really don't know what we are going to find. It is a huge day for astronomy."
Astronomers use a receiver to catch radio waves and turn them into electrical signals for analysis. CSIRO astronomer Dr George Hobbs described it as "stars and galaxies sing with different voices, some high and some low. It's like a choir out there." A receiver determines which radio frequency the telescope can hear.
"Until now we've had receivers that heard just one part of the choir at a time. This new one lets us listen to the whole choir at once, enabling us to see the whole picture, which is phenomenal!"
It took a long time to build the $2.5million cutting edge instrument, developed by CSIRO and a consortium of Australian universities led by Swinburne University of Technology.
With this groundbreaking technology the 57-year-old Parkes telescope will continue to lead the way with new discoveries. The Dish is one of the world's most productive telescopes, and holds the world record for finding more pulsars than all the other radio telescopes put together, and most of the fast radio bursts that still mystify astronomers. "It is a really exciting day science will benefit from," said Parkes Operations Scientist John Sarkissian. For Jane, who studies galaxies other than the Milky Way, it means she will be able to form a better picture by getting continuous light from them, which was not possible before.
The very powerful computing system of the receiver means astronomers would work with much higher data volumes. "That is what makes this technology so exciting is the unknown factor. We will be able to search data in ways we haven't done before. I study pulsars and my dream is to find a pulsar going around a black hole."
For CSIRO Fellow Dr Richard Manchester, who joined the Parkes telescope in 1968, it was an emotional day as he was involved with building the old receiver, as well as the new one. "They are like my children. It is a special day to be here."
By Maggi Barnard