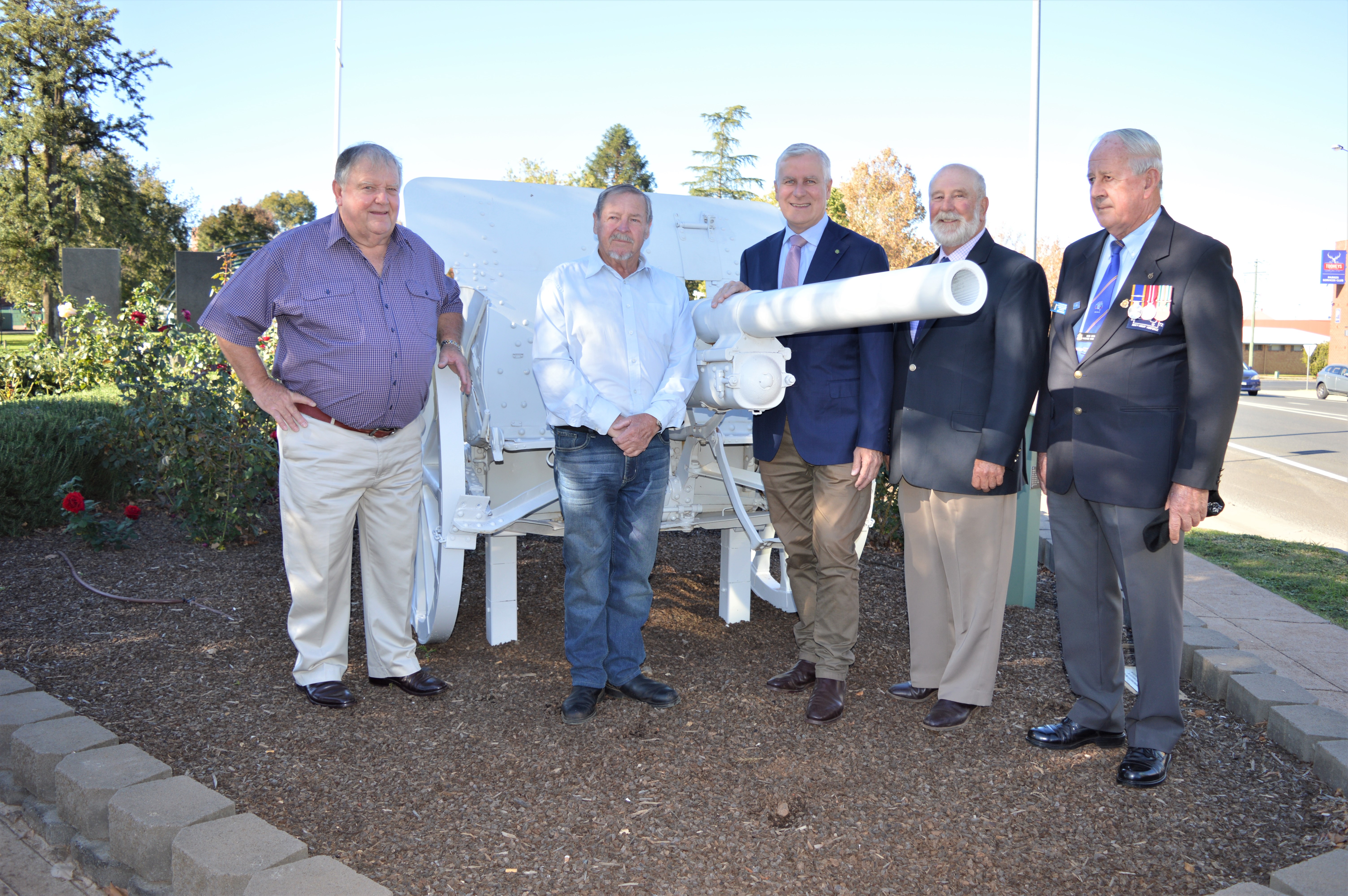 The 100-year-old German Feldkanone has been restored and recently returned to Cooke Park with a brand new coat of mid grey paint and two new wheels.
A wheelwright from Bywong in NSW, Mark Burton, made the wheels to the original specification, and Councillor George Pratt undertook the rest of the restoration work with the help of Council workers at the depot.
The project took about 16 months to complete.
George explained the cannon was painted in its original mid grey colour, which matched the colour of German uniforms at the time.
The colour also helped to camouflage the cannon during winter time when it snowed.
On Tuesday Deputy Prime Minister and Member for Riverina Michael McCormack visited Parkes to see the end result as he was instrumental in assisting the Parkes RSL Sub-Branch to get a Commonwealth grant of $9,500. The Parkes Shire Council contributed $1,000 as did the Parkes RSL Sub-Branch.
"We need to conserve these monuments," said Michael of the cannon that was offered to Parkes after an application to State Government was made for it.
"It is a magnificent WWI relic and is now completely restored for people to see," said Parkes RSL Sub-Branch secretary/treasurer Paul Thomas. He thanked Michael for his timely and generous support in assisting the local Sub-Branch and making time to see the end product in Cooke Park on Tuesday.
Paul and George both thanked the Parkes Shire Council for its valuable assistance. Paul could not praise George enough for his commitment to the task. He also said the work of Mark Burton, the wheelwright, was outstanding and he was a credit to his industry.
The cannon was officially dedicated by Parkes Mayor Ken Keith OAM and the town's Anzac Day ambassador Lt Colonel David Heatley at the recent Commemorative Service.