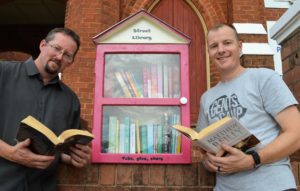 Street Libraries have been popping up all over Australia for a number of years, and last Friday a Parkes resident ensured our town joined the movement.
Daniel Greef built a beautiful home for books and installed Parkes' very first Street Library at the Presbyterian Church where it is accessible from the street to share the joys of reading with the community. Daniel said he got the idea from his parents who started one at their home in Sydney. "As I don't live in town, I had to find a place to put it."
As a member of the Presbyterian congregation, Rev Craig Bland welcomed the idea when Daniel asked him for space. Daniel constructed a beautiful little home for the books and bolted it to the boundary wall of the church on the corner of Gap and Hill Streets last Friday.
"It is a great idea," said Craig, "and the interest in it already shows there has been a need for this in the community."
Daniel said he put in 10 books initially and within a few days it had been filled to capacity. He has also received very positive feedback from residents commenting on what a good idea it is.
The idea is that anyone can take books, or put books in. "Anything is welcome from fiction to non-fiction and children's books."
He encouraged people to drop by regularly to see what's new. He would also be happy if other Street Libraries pop up elsewhere in Parkes.