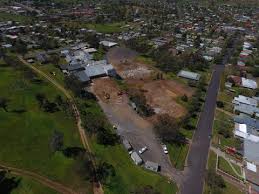 The demolition of the 110-year-old Parkes hospital was completed just before Christmas. It took four months to complete the project that was delivered on time and within budget. Parkes Shire Council's Director Engineering Services, Ben Howard was pleased the project had been completed in a cost efficient and timely manner. "The second
phase of the demolition process saw the contractors transport the building material off site for crushing. This allowed the demolition phase to be finished ahead of the nominated completion date."
Ben said with the main demolition phase complete, final site works would pave the way for a new residential redevelopment and repurposing of the two remaining buildings. The fence erected around the site will remain as final site works are carried out to remove all the footings and underground utilities, top dressing, and seeding all affected areas.
"The removal of all hazardous building materials has been done in compliance with the hazardous materials guidelines and furthermore, no incidents or safety issues arose throughout the entire project", Ben said. The old hospital was demolished following the NSW Government's $72.8 million investment towards building the new hospital just off the Forbes Road, which was officially opened in 2015.
Health District welcomes new Chairperson:
The Board for Western NSW Local Health District has a new chairperson and four new members. Following the end of his six-year tenure as Chair, Dr Robin Williams stepped down at the end of last year. Health Minister Jillian Skinner appointed Scott Griffiths PSM in the role. He has been a member of the Board for the past six years, and chair of the finance and performance sub-committee for the same period.
Western NSW Local Health District Chief Executive, Scott McLachlan said Dr Williams and the Board had been instrumental in leading the organisation towards a clearer vision and pioneering the introduction of key health strategies, including the very successful Integrated Care initiative.