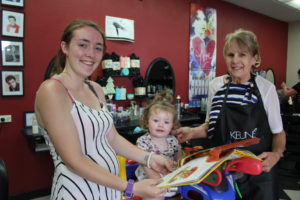 Reading a trashy magazine while waiting for your hair appointment is something many of us have done, but what about reading to the person cutting your hair? Six salons in Parkes have joined a new and exciting project by the Paint Parkes REad Committee encouraging children under 11 years to read a book while getting a haircut. As a bonus the salon deducts one dollar from the price of the haircut.
Smaller children are encouraged to talk about the pictures in the book during the haircut. According to Rhonda Brain, who initiated the Fringe Benefits Project, after she had read about it being done successfully in Finland. "The reaction from the salon owners has been so positive and supportive as they felt it was a good way of promoting reading."
Nicole Rosser of Charisma Hair Salon said it was a great idea. "I especially like how it continues to involve the community in spreading Paint The Town REad's message. Reading is so important and books give kids a break from playing computer games."
Adele Hawke of Adele's Salon said it definitely helped kids to sit still too. "It is a good idea and the kids have taken to it." She has added to the initiative by donating one dollar for every haircut, and collected about $60 in a month's time for Lilly Wyburn, who recently passed away from leukaemia. Rhonda said the initiative would continue as long as it was supported.
By Maggi Barnard