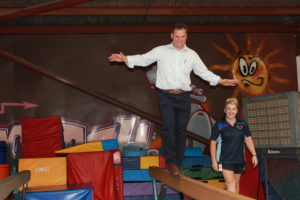 Philip Donato was the bearer of good news on Tuesday when the MP for Orange visited the Parkes Shire to announce the latest round of Community Building Partnership grants.
A total of $38,925 has been allocated to several local community groups for vital repairs and upgrades. "As Member for Or- ange, I am proud to announce four Com- munity Building Partnerships grants for groups in Parkes, Trundle and Peak Hill." Philip said.
The Parkes PCYC received $20,000 to contribute for the upgrade of amenities. PCYC Club Manager, Amanda Sutton said around 600 members utilise the PCYC on a weekly basis, participating in various sports, after-school care, or even traffic offender programs.
"The building is in almost original condi- tion and is in need of a lot of repairs," she said. "People have a strong connection to the PCYC through the activities, but a lot of people are unhappy with the amenities, so it will be great to be able to start the improvements." The female toilets and change rooms will be the first to benefit, with a renovation set to provide new tiling, new basins, and an essential repair of the sagged and broken ceiling.
The staff at Meals on Wheels were delighted to show the MP around their new premises. Service Manager Gillian Kinsela said their new facilities were fantastic. "It's bright and airy and spacious. We have a private meeting room, and are looking to make further improvements to help our staff and volunteers work comfortably," she said.
Their $10,000 grant will go towards new freezers, so they can continue to provide nutritious meals to their clients. The volunteers deliver 300 hot and frozen meals each week in Parkes alone, allowing people to retain their independence for as long as possible. The volunteers also provide social interaction and welfare checks to clients who might otherwise be isolated.
"Meals on Wheels are a vital community service, and one we're proud to support," Philip said.
Peak Hill's historic A.I.F. Memorial School of Arts was the recipient of a $3,000 grant, which will contribute to the costs of repaint- ing the interior of the hall.
A grant of $5,925 will help the Trundle War Memorial Hall upgrade their kitchen.
The four local organisations were amongst 14 community groups across the Orange electorate to receive funding in the latest round of grants.
"Each of these facilities makes a valuable contribution to community life, and these grants will enable them continue to provide their services to the community," Philip said.
"The $200,000 pool of funding available to the Orange electorate is an excellent resource allowing community groups to reach their goals. I look forward to many more organisations benefiting from this program in the future."
By Raen Fraser