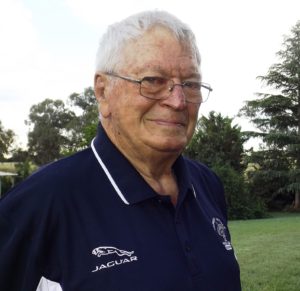 Barry Garment
How long have you lived in Parkes and why do you like living here? I've been in Parkes since 1980. I enjoy the friendly and helpful people and the relaxed lifestyle that the open spaces of the Central West allow.
Where do you work and what do you enjoy about your work? I retired in 2000 after 43 years with the DMR/RTA, 35 of which I also served in the Australian Army Reserve. Since then, teaching scripture as a volunteer to the three public primary schools has been my most rewarding 'occupation'.
What do you do to unwind after work or on weekends? I'm passionate about old cars, and have three vintage vehicles which keep me out from under my wife, Norma's feet. I'm also Secretary of the Parkes Antique Motor Club, and the wide range of the club's activities provide rewarding experiences.
What are you really good at? Trying to get things right at a second attempt. Sometimes things I do don't go quite to plan, and I have to rethink and try again.
If you could have a super power what would it be? That people would be so considerate of others that we'd not need any police forces or armies.
What is your pet hate? Trying to apportion blame whenever anything goes wrong. We need to acknowledge that sometimes people make honest mistakes, and generally don't deliberately set out to hurt others.
Tell us about your best holiday ever?
A trip to the northern Queensland coastal area, revisiting places we first saw on our honeymoon. Whilst there had been some changes, most of the natural beauty was as we remembered.