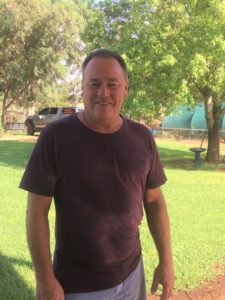 David Brown
How long have you lived in Parkes and what do you like most about living here?
I've lived here all my life. I enjoy the community spirit of Parkes and it's a very good place to bring up kids.
Where do you work or what do you do currently and what do you enjoy about it? I am the owner of Central West Pest
Management and I like being able to help people with their termite problems and set their homes right so that they are safe.
What is your favourite thing to do when you have free time? I like to play golf and water sports and often spend weekends at Wyangala Dam.
What makes you proud? My children. I am very proud of the young adults they have become. They are fabulous people.
If you could be an animal which one would you choose and why? A tiger. They are so majestic and such great providers to their cubs.
What is your all-time favourite movie, song and/or book, and why? The movie Pretty Woman. Richard Gere and Julia Roberts are such a great combination.
Tell us about your best holiday. The Amazon. To see the vast amount of water, fish, caiman (fresh water crocodiles) and pink dolphins were amazing.
What is on your bucket list? Egypt. I would like to see the pyramids and walk through the Valley of the Kings.