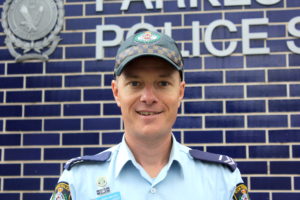 How long have you lived in Parkes and what do you like about living here?
About twelve years, I moved here from the city and like the size of the town and living in a rural community.
Where do you work and what do you enjoy about your work?
I'm the local Crime Prevention Officer for the Police Force. I enjoy getting into the community and working and engaging with them to reduce crime and the fear of crime. It is very satisfying seeing young people build confidence and overcome barriers.
What do you do to unwind after work or on weekends?
I run and ride bikes, and spend time with my family.
What are you really good at?
You'll probably have to ask my bosses, friends or family that question.
If you could have a super power, what would it be?
Does having more tradie skills count? So I can be of more assis- tance with building at the orphanage I vol- unteer at in Zambia.
What is your pet hate?
Dishonesty.
Tell us about your best holiday ever.
Travelling to Zambia to help out at an HIV orphanage in Ndola; assisting with building and running boys mentoring camps. I've gone back three times and will go many more times.