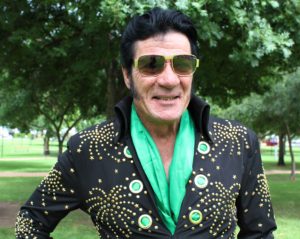 How long have you lived in Parkes and why do you like living here? Since 1984, top place to live and we have the Elvis Festival!
Where do you work and what do you enjoy about your work? Parkes Shire Council grader operator. I like the outdoors, so what's better than being in the middle of nowhere most of the week, plus I am one of the local Elvis blokes. (Al is Parkes' Elvis on Call.)
What do you do to unwind after work or on weekends? Just retired from playing competition rugby this year so now it's an open book for things to do. Still working on that one. Probably take some singing lessons would be a good start.
What are you really good at? Not sure but you just give it your best shot regardless and enjoy life.
If you could have a super power what would it be? Flying would be great but could be dangerous in an Elvis Jumpsuit…
Tell us about your best holiday ever?
Representing Australia at the Touch Football World Cup in Edinburgh, Scotland as a team manager, plus having my wife and children joining me there and touring around Europe afterwards.