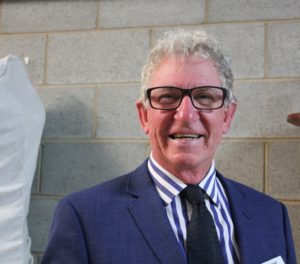 Bill Jayet
How long have you lived in Parkes and why do you like living here? I arrived in Parkes in 1978 after eight years working in Sydney – I was born and raised in Forbes. I like the friendly country lifestyle. In fact we should have emblazoned on our number plates ''Parkes, The Friendliest Town In Australia''.
Where do you work and what do you enjoy about your work? I retired as senior journalist with the Parkes Champion Post at the end of June 2016 after 36 years with the paper. As an elected Councillor, life has never been busier and I'm really enjoying being part of a progressive and cohesive Council.
What do you do to unwind after work or on weekends? If I'm not in the garden, I'm off with Lindy and close friends for a couple of days of relaxation, dining, wining, dining, dining and doing touristy things. Oh! Did I mention dining?
What are you really good at? I'm terrific at eating too much bread…ok, desserts too!
If you could have a super power what would it be? To morph into Superman and fly… after all I was often referred to as Jimmy Olson during my years at the Champion Post!
What is your pet hate? Tripe in any form – no matter the garnish!
Tell us about your best holiday ever? My favourite was a three week trip to Western Australia. We journeyed with with four close friends from Albany to Freemantle staying along the way at beautiful locations, eating great food where we would all order something different to share so none of us would end up with food envy!