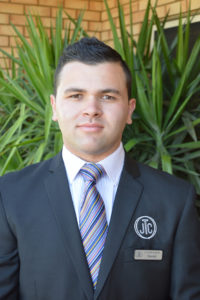 Daniel Calabro
How long have you lived in Parkes? I moved here 15 months ago from Leeton with my family.
What do you enjoy the most about living in Parkes? It's a great place to raise a family and it has great opportunities.
What do you do for work? I am a funeral director and operate JT Cock & Sons.
What do you enjoy most about your work? Every day I have the honour of being involved in a family's life at one of their most vulnerable times. I find great pride in the trust that these families place in us.
What makes your day? Spending time with my children, going to the park for lunch.
How do you like your coffee? White with two sugars.
Who would you like to have dinner with? Richard Branson, as he is a fantastic entrepreneur and would be a great mentor if you are so lucky to be able to spend time with him.