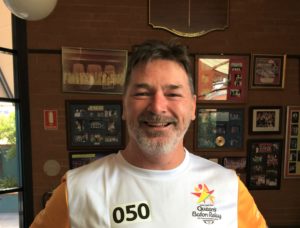 Darrin Gibson
How long have you lived in Parkes and what do you like most about living here?
I have lived in Parkes for approximately nine years, however I was born here in 1967 at Parkes District Hospital. Without doubt I love the people and the relaxed life here.
Where do you work or what do you do currently and what do you enjoy about it? I am semi-retired, however I do manage a small property portfolio with a view to employment at Maccas. I love working with people, in this case tenants. I try to be respectful and prompt and I get the same back in return generally.
What do you do in your spare time and on weekends? I can usually be found in my vegie patch growing something for dinner or robbing one of my bee hives, however I do like to frequent the local cafes for a chat.
What are you really good at? I am really good at negotiating with my partner to get the best outcome for her. She would probably say the same about me actually.
If you could have a superpower what would it be? If I had a superpower I would be Super Mayor and cut our rates by 10% every leap year.
What is your pet hate? My pet hate is people who stretch the truth too far and our current state of politics.
Tell us about your best holiday. My best holiday was in Vietnam as a young soldier backpacking on a motorbike from Saigon to Hanoi exploring all the historical war sites including the Battle of Long Tan at Nui Dat. Also revisiting Vietnam when I took Deb, my partner, when we stayed in 5 star hotels and not in backpackers accommodation, woohoo.