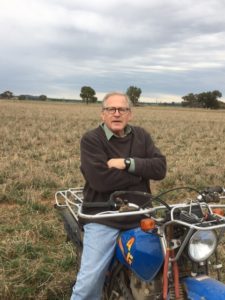 Gary Somers
How long have you lived in Parkes and why do you like living here? I was born in Parkes. I have lived here ever since, except for six years at boarding school, one part year working in Sydney and three years of tertiary study at what is now Charles Sturt University at Wagga Wagga. Parkes is just a great place to live!
Where do you work and what do you enjoy about your work? Our family farm "Trelawney" is just 12km from Parkes in the Coobang Valley. I am fourth generation to work on this farm and feel a deep love and attachment to the property! I see myself as a temporary custodian of this land and feel a responsibility to leave it in better condition for future generations. I have always enjoyed the challenges and rewards that go with farming and grazing livestock!
What do you do to unwind after work or on weekends? I enjoy reading, taking our dogs for walks, good food, good coffee and the occasional glass of wine. I love to host family and friends here at "Trelawney". I also enjoy playing bridge at Parkes Bridge Club and am a keen rugby union supporter (the Boars, Waratahs and Wallabies).
What are you really good at? I think I am more a 'Jack of some trades and master of none'!
If you could have a super power what would it be? I am sceptic about 'super powers' but if I could conjure up a decent fall of rain that would be great!
What is your pet hate? Littering our environment with rubbish! Intolerance and prejudice towards our fellow humans!
Tell us about your best holiday ever? Five weeks visiting my wife Christine's relatives north of Venice in Italy and visiting friends of my paternal grandfather (JR Somers) and the original Somers farm "Cranmore West" near Bath in Somerset, England.