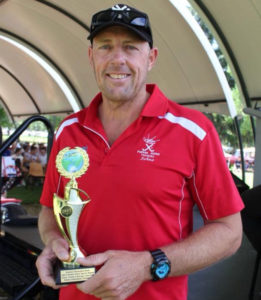 Glenn 'Johno' Johnstone
How long have you lived in Parkes and what do you like most about living here? All my life – 42 years (lol). My friends and family, and the community spirit that Parkes radiates!
Where do you work or what do you do currently and what do you enjoy about it? I have just started a new business called Johno's Hockey Academy coaching hockey athletes of all ages and abilities. I love seeing athletes develop, gain confidence, and achieve their goals. I also operate the Just Hockey Pro Shop. In between, I do contract lawn mowing with Jim Daley of Cutting Edge Lawns.
What do you do in your spare time and on weekends? I don't get a lot of spare time, as my wife Cherie and three sons Koby (15), Zanda (11) and Jett (9) all play hockey too. Doing it together is great. I do sneak in a fitness session in my home gym or a quiet beer with mates every now and then.
What are you really good at? Getting the best out of athletes, assisting them to realise their full potential. I also cook great poached eggs!
If you could have a superpower what would it be? Teleport, so I can send myself to places without the travel or waiting.
What is your pet hate? My boys leave the doors open all the time, it drives me crazy.
Tell us about your best holiday. In 2014 my mum and dad shouted my family and my sister's family flights to America. We were 11 and we first arrived in Los Angeles for Disneyland, Universal Studios, an ice hockey game, a baseball game, Santa Monica Pier and Venice Beach. We drove to Las Vegas – an eye opener – and loved Fremont St (old Vegas) and a helicopter tour to the Grand Canyon. In San Francisco we saw Alcatraz, Lombard St, Pier 39
and crossed the Golden Gate Bridge in an open-top bus. The best part was doing it as a family, so many great memories.