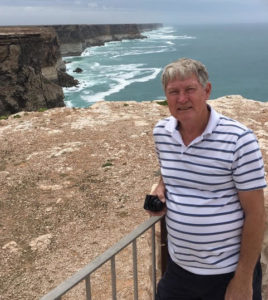 Tony Horsington
How long have you lived in Parkes and what do you like most about living here? I visited Parkes on a semi-regular basis during the 1970's, but moved here from Windsor in January 2010 so my wife Heather could take up an offer to teach at Red Bend College. We love living in the country away from the fog and smog, traffic lights, queues and the horrific traffic congestion.
Where do you work or what do you do currently and what do you enjoy about it? I recently retired from my mortgage broking business. I am now known as a self-funded retiree with an interest in gardening, motoring, collecting old Stanley tools and home renovations.
What do you do in your spare time and on weekends? 'Spare time' is a misnomer as I always have more things to do than time available. Weekends are often spent visiting family in either Sydney, Canberra, Wagga, Albury, Port Macquarie and visiting my 92-year-old mother in Narooma, There is also venturing out with the Parkes Antique Motor Club on outings.
What are you really good at? I was renowned during my working career as fixer of companies or organisations in trouble.
If you could have a superpower what would it be? I have many wishes, three of which are: to wind the clock back several decades to a time when the pace of living was a little less frantic; to equip Australia with a strong stable government for the people; and to prevent global natural disasters which cause so much damage and misery.
What is your pet hate? Unsolicited phone calls, sms messages and emails.
Tell us about your best holiday. Of the many holidays both overseas and within Australia, any long trip away to see the Australian outback is the best.