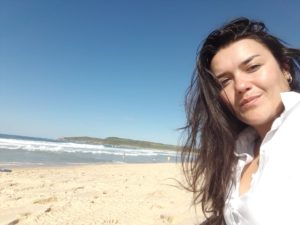 Melodie Moya
How long have you lived in Parkes and why do you like living here? I came to Parkes eight months ago. Living here has been life changing as I come from Paris. I enjoy meeting locals and having a chat in the street or a shop – something you never do in a big city.
Where do you work and what do you enjoy about your work? I work as site foreman at the Parkes Solar Farm. I'm in charge of the civil and mechanical part of the project, and safety. I enjoy working with people from diverse fields sharing our knowledge and culture.
What do you do to unwind after work or on weekends? I enjoy going to the pub with work mates. I attended the Show last month and was pretty impressed. It is a nice balance between traditional and modern show activities.
What are you really good at? I'm impressed how quickly I've picked up Australian slang. I'm also really good at Latin dancing and socialising.
If you could have a super power what would it be? To be able to fly to get everywhere in the world to learn about different cultures and visit all types of landscapes and architecture.
Tell us about your best holiday ever. Travelling is part of my life. I love France for its culinary arts and architecture; Spain for its flamenco music; Colombia's fauna and flora; Mexico's pyramids and Colorado and the spectacular Grand Canyon. But I reckon the best is still to come travelling around Australia when I finish on this project.