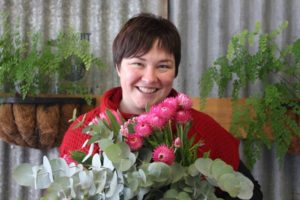 Alice Milne
How long have you lived in Parkes?
For almost three years. I moved here with my husband from Scone in the Upper Hunter Valley.
Where do you work?
I am the owner of the Pink Orchid Florist.
What do you enjoy most about your work?
I love bringing joy to people and surpassing their expectations. That is the point of flowers, to bring joy.
What do you do in your free time?
Spending time with my family and friends and baking. At the moment I love baking a gluten free banana and coconut bread. It is really yum.
How do you like your coffee?
My preference is flat white, but I often end up drinking all sorts of coffees made by mistake in the shop.
What makes your day?
Being productive and seeing people enjoy what I create, and of course beautiful, fragrant, brightly coloured flowers.
If you could go anywhere in the world on holiday where would it be?
Barbados, because it looks amazing with its lush green vegetation, beautiful tropical water and lovely people. It looks like you would get a really relaxed vibe there.