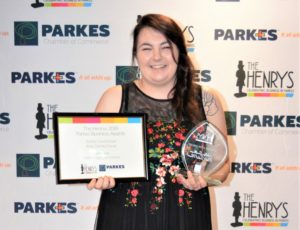 Ashley Goulthorpe
How long have you lived in Parkes and what do you like most about living here?
I have lived in Parkes for the majority of my life. I love the friendly community and how people support each other.
Where do you work or what do you do currently and what do you enjoy about it? I work at the Pink Orchid Florist and Cafe as a florist. I enjoy working in such a colourful and supportive workplace full of fun people.
What do you do in your spare time and on weekends? In my spare time I enjoy reading, art and hosting dungeons and dragons campaigns.
What are you really good at? I've been told I'm really good at chatting!
If you could have a superpower what would it be? I think freezing time would be incredibly helpful, especially at work during our busy times of the year like Valentines Day!
What is your pet hate? My pet hate is when people are unnecessarily rude or when I'm so busy that my chai latte at work goes cold.
Tell us about your best holiday. My best holiday is yet to come, I'm going on a cruise to the Pacific Islands in January 2019! I'm very excited!