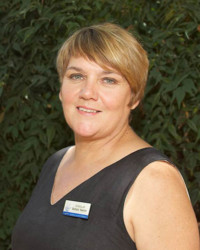 Barbara Newton
How long have you lived in Parkes and why do you like living here? I have lived in the Parkes Shire for just on 19 years, in the town of Tullamore. I enjoy living here because of the people. It is so lovely to have a sense of real belonging. We support each other when required and people acknowledge each other. I also love the
space around me.
Where do you work and what do you enjoy about your work? I have 'retired' from my profession as a registered nurse – a profession I have always been very passionate about and continue to be so. I was also in professional theatre – a great time of my life with very cherished memories. I would have to say my work now is as a shire councillor, currently in the position of Deputy Mayor. My time on council has been very challenging and rewarding. I am very proud of the council and all staff. Parkes Shire Council really is an exemplary council.
What do you do to unwind after work or on weekends? I like my happy hour! I think to spend time with my husband and family and friends is my usual relaxation. I do enjoy a good book and a murder mystery on TV.
What are you really good at? I suppose the skill I have that stands out is that I sing. This is something I have done since very small. I must say my repertoire has changed since moving out west.
If you could have a super power what would it be? I think I would love to be able to fly, very fast so I could get to my family in London and Sydney quickly whenever I wanted or needed to go. It would be great to be able to make people tolerant and kind as well.
What is your pet hate? I think my pet hate is meanness and cruelty. So much in our world and so destructive.
Tell us about your best holiday ever? It is hard to pick one holiday, but driving over to Perth from Sydney when our children were young teenagers was a great holiday and still brings many a laugh when we remember it.