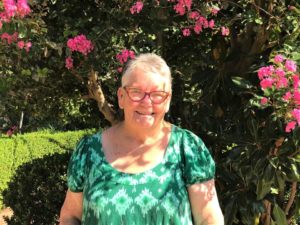 Elsie Mahon
How long have you lived in Parkes and what do you like most about living here? I have lived here for about 50 years. It is a great town. We would not want to live anywhere else.
Where do you work or what do you do currently and what do you enjoy about it? I have a studio at home where I teach art and mosaic classes which I enjoy immensely.
What is your favourite thing to do when you have free time? Gardening and playing in the studio.
What makes you proud? My family, and being part of the Parkes community.
If you could be an animal which one would you choose and why? My husband's little dog, called Daisy, because of all the treats and spoiling she receives.
What is your all time favourite movie, song and/or book, and why? A Star is Born; and any Rod Stewart songs.
Tell us about your best holiday. An art tour in England and France, including a visit to Monet's garden.
What is on your bucket list? To be a great grandmother so I can spoil more lovely babies; and to see everyone, especially men, have an interest or hobby so that when they retire there is something to look forward to every day.